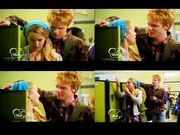 Olivia White & Wendall "Wen" Gifford first officially interacted when they both got detention on the same day. Wen begins to play with Charlie, Stella, and Mo when Olivia joins in to sing. He looks impressed by her singing and is seen smiling at her throughout Turn Up the Music. A few days later, when Stella texts all four of them, Wen approaches Olivia and asks her if she thinks Stella is talking about the band. Olivia is taken back by his sudden appearance and awkwardly walks away which Wen seems fustrated to have caused.
Later, when the five of them meet to eat pizza, Wen compliments Olivia on Turn it Up and calls it "Amazing". During their first band rehearsal, both Wen and Olivia didn't want Mo and Charlie to leave and when Wen began to play on his keyboard Olivia smiles back at him and approaches Mo to sing to her. During the song, Olivia walks over to Wen and leans on his shoulder while he's playing. Wen, taking Stella's previous advice, goes over to Olivia's house to write songs together. They start off awkwardly but seem to get closer and laugh together. When Wen mentions how old Olivia's cat looks, Olivia gets emotional and cries because it was her mom's cat and therefore her last memory of her. Wen and Olivia continue to write Determinate and Wen mentions that he likes her smile.

In the "Livin' on a High Wire" extended part Olivia and Wen show a little romance. Also in the extended edition scene to cover for Mo, Olivia says she and Wen are dating-ish and Wen says Olivia is his "girl". Then during their performance of "Livin' on a High Wire" he kisses her hand. Olivia White is played by Bridgit Mendler (Good Luck Charlie, Wizards of Waverly Place) and Wen Gifford is played by Adam Hicks (Zeke and Luther).